Smart Thermostats
$80 cash incentive
Installing a smart thermostat can help you reduce energy costs and keep your dwelling comfortable year-round. Smart thermostats use sensors to tell when you're away, and can be programmed to use your daily schedule and local weather information to make energy-saving temperature changes automatically.
If you own an individual condominium unit, townhome, duplex, triplex or fourplex in Washington, visit our Washington Multifamily page to view available cash incentives for smart thermostats.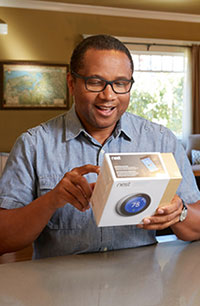 Establish your eligibility.

Read More >

Primary heat source must be electric forced-air furnace or a ducted heat pump with electricity provided by Portland General Electric or Pacific Power; or gas forced-air furnace with gas provided by NW Natural, Cascade Natural Gas or Avista.
Cash incentives are available to all Oregon multifamily properties including: duplexes, triplexes and fourplexes; side-by-side units; and stacked structures with five or more units. See the "Details" tab for further eligibility requirements.
Energy-saving improvements must meet program requirements.

Purchase and install your thermostat according to the manufacturer specifications. Remember to consult your manufacturer's instruction guide to ensure proper installation. This offer cannot be combined with Energy Trust's smart thermostat instant coupon or the heat pump advanced control incentive.

Apply online within 60 days or submit form within 90 days of purchase. Be sure to include a copy of your receipt or invoice showing proof of purchase. Please allow six to eight weeks for incentive processing and payment.

Send by Mail


Energy Trust of Oregon
Existing Multifamily Program
811 SW 6th Ave, Suite 800
Portland, OR 97204
Energy Trust is limiting the maximum amount of standard electric incentives a customer site may receive per year.
Portland General Electric sites are limited to a maximum of $12,000 per site, per year.
Pacific Power sites are limited to a maximum of $6,000 per site, per year.
| Equipment | Incentive | Requirements |
| --- | --- | --- |
| Smart Thermostat | $80 per unit | The incentive is available for units primarily heated by a furnace or ducted heat pump with fuel by participating utility. Smart thermostat must be included in Energy Trust's list of qualified products. |
Incentives are subject to funding and availability and may change. Limit one incentive per residence. This offer cannot be combined with Energy Trust's smart thermostat instant coupon or the heat pump advanced control incentive.
Not sure which thermostat is right for you? Compare features of the two most popular smart thermostat brands below.
| Features | Google Nest | ecobee |
| --- | --- | --- |
| Adjust thermostat from phone | ✓ | ✓ |
| Amazon Alexa built-in | | ✓ |
| Annual energy savings | ✓ | ✓ |
| ENERGY STAR® certified | ✓ | ✓ |
| Monthly energy report | ✓ | ✓ |
| Occupancy room sensor included | | ✓ |
| Smart algorithms | ✓ | ✓ |
| Remote temperature sensor | ✓ | ✓ |
Compatibility check
See if your new smart thermostat is compatible with your home's wires.
Set up your thermostat with ease
So long are the days of struggling to install your thermostat. With these quick and easy to follow installation videos, you'll be saving energy in no time.
Resources
Form 320HVAC Heating, Ventilation and Cooling Incentive Application
A W-9 or Substitute W-9 form is required for investment properties
Need Help? Contact Us.
We're here to explain the process and benefits. Give us a call at 1.877.510.2130 or send us an email at multifamily@energytrust.org.