THE POWER TO SAVE ENERGY
Energy use is a cost of doing business for every type of enterprise. It can also be a strategic asset—one that can be managed to boost profits.
Through Strategic Energy Management (SEM), you'll gain the tools, experience and know-how to help your staff identify significant cost-saving opportunities and capture energy savings for years to come.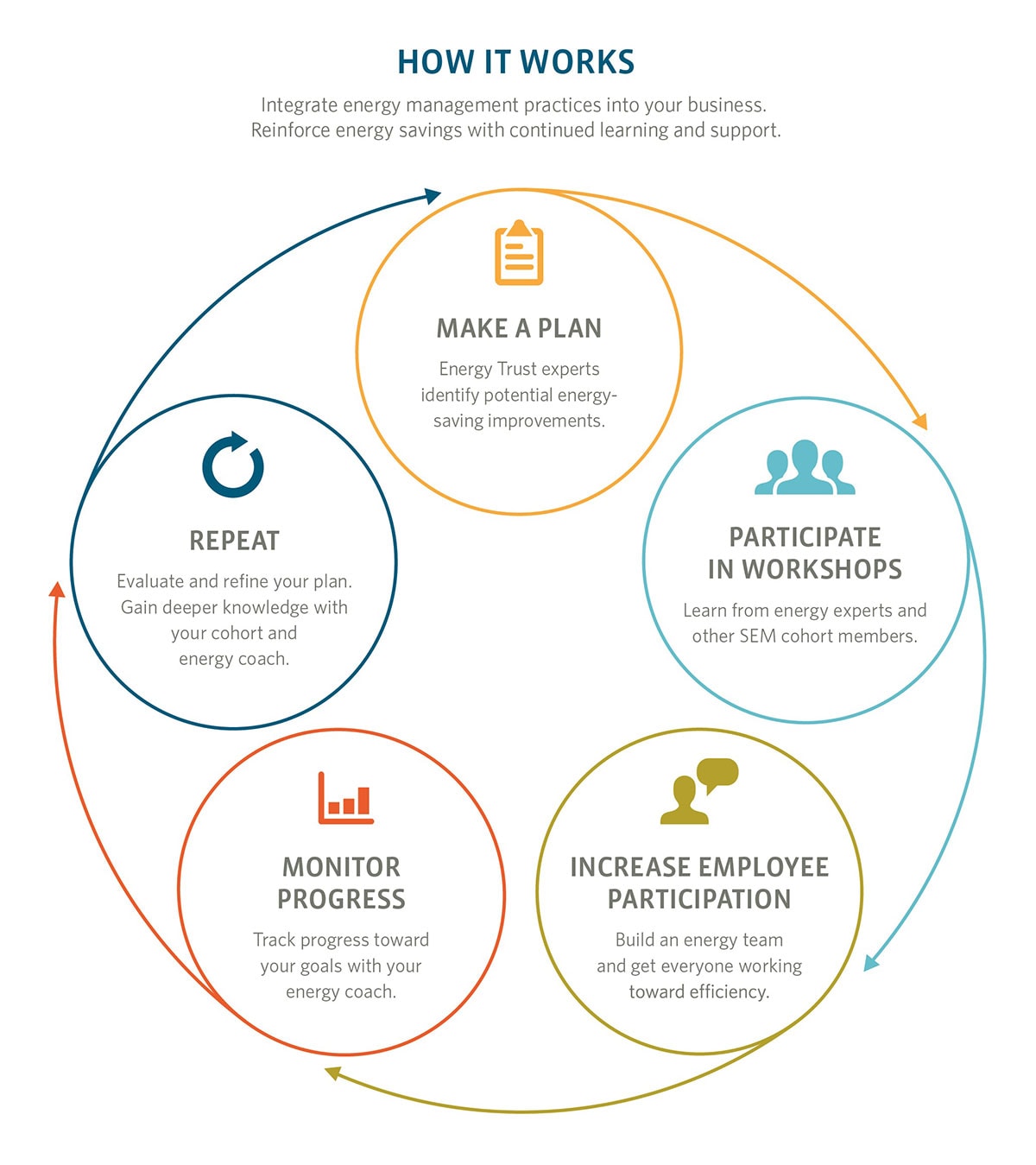 SEM looks at how building occupants and staff use energy by examining their procedures and behaviors. SEM focuses on no- and low-cost operations and maintenance improvements that deliver energy savings. Participants typically see energy savings of about 5 percent in the first year.
Energy Trust will introduce you to a cohort of peers in the business world to engage with in your training, growth and support. Plus, you'll have access to Energy Trust experts who will give you the knowledge and guidance needed to become leaders in energy management.
To learn more about SEM call 1.866.605.1676 or email energymanagement@energytrust.org.
"Strategic Energy Management has taken the energy operations of the City's facilities to a whole new level. Investing in energy efficiency has proven to be a great return for the City over many years."
Michael Armstrong
Senior Sustainability Manager
City of Portland
Understand what SEM success looks like for your organization. Begin developing an energy policy. Meet other cohort members.

Develop and implement an energy policy with short- and long-term energy use reduction goals and assigned accountabilities.

Train an energy champion and establish an energy team to promote SEM within your business.

Conduct an organizational assessment of current practices.

Develop and implement an action plan and make continuous improvement modifications as needed.

Find out how to develop or enhance an energy team, create an energy action plan and promote energy efficiency initiatives.

Conduct technical assessments at one or more of your enrolled facilities to identify and prioritize energy-saving operational and capital opportunities for implementation.

Develop and implement a tracking system of energy savings, energy intensity and energy targets.

Learn to effectively collect and analyze energy data, use tools to track progress toward efficiency goals and take action as needed.

Set and refine annual site targets, introduce facility plans and learn about Energy Trust resources and potential funding mechanisms.

Learn what drives tenant/employee engagement in energy efficiency and how to plan and implement activities and track results.

Find out how to maintain and continuously improve your energy management practices.

Together with your fellow cohort members, present your progress and accomplishments and celebrate successes.
Incentives
In addition to the value of the workshops, tools and support from energy coaches, Energy Trust also offers incentives based on progress from your energy management improvements and behavioral changes at enrolled sites. Talk with your Energy Trust program representative for more details.
Energy savings—Energy Trust offers cash incentives for electric savings in Portland General Electric and Pacific Power territories ($0.02/annual kilowatt hour saved) and natural gas savings ($0.20/annual therm saved) in NW Natural, Cascade Natural Gas and Avista territories through SEM improvements.
Milestones—A $1,000 incentive for each SEM milestones that you reach.
Interns—Energy Trust offers up to $10,000 to help cover the cost of hiring an intern who works on SEM-related activities for a minimum of 80 hours during the 12-15 month SEM enrollment period.
Education—Incentives for completing certifications, and access to additional resources and training.
SEM resources
"Energy Trust provides the support we need to succeed."
Melinda Shumaker
Facilities Director
North Clackamas School District